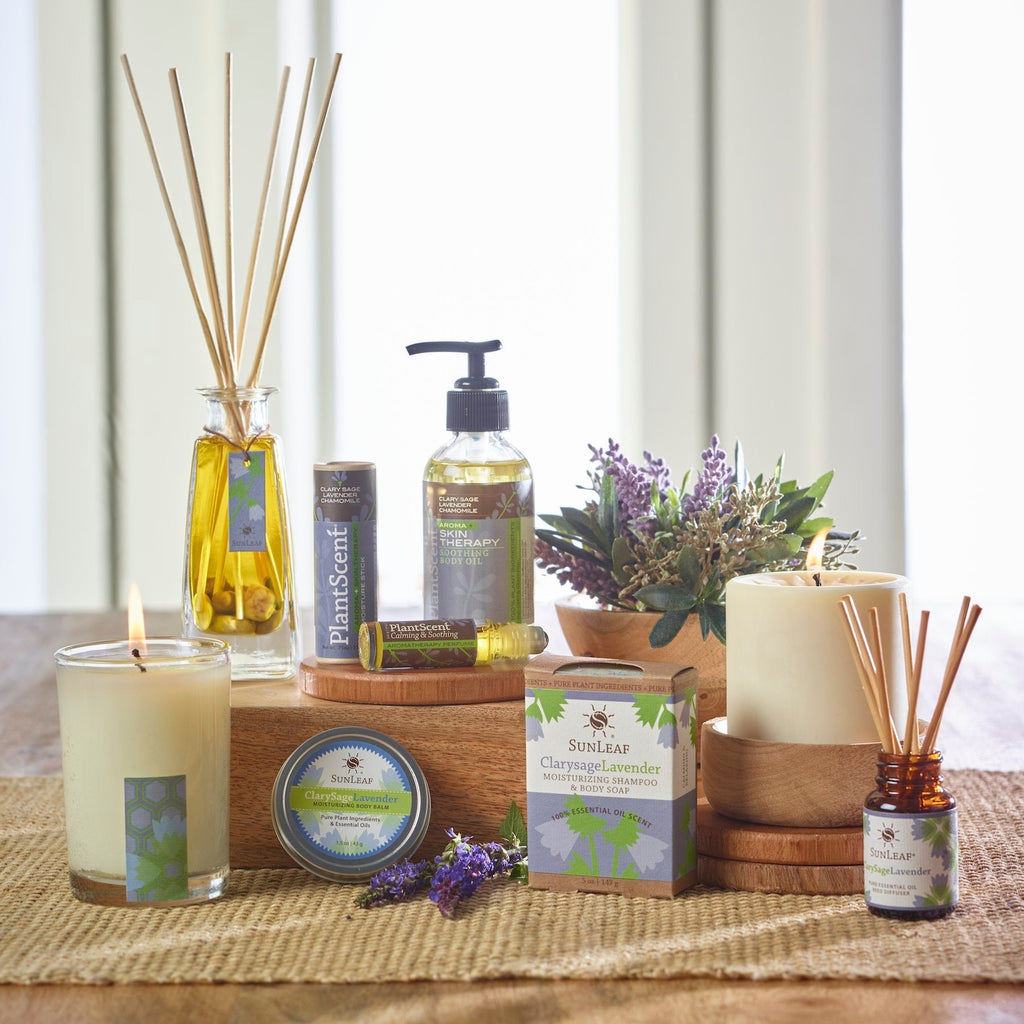 Need to unwind? Look no further than ClarySage Lavender.
Eleven years ago, our President and Founder, Teresa Andrys, set out on a mission to leverage her decades-long experience working as a personal care product chemist to bring something completely new to the table: a collection of products for which pure botanical aroma would be the focus, and zero synthetic ingredients would be permitted.
What emerged from this work were eight, 100% pure essential oil aromas, known today as our SunLeaf Signature Scents. Each aroma was thoughtfully created from a palette of natural raw materials – oils of citrus, flowers, resins, bark, and more; from there, a collection of products was envisioned to showcase these signature aromas – candles, pure essential oil reed diffusers, and more.
Although we love all our aromas, and truly believe we offer a little something for everyone, our customers have spoken, and ClarySage Lavender has become a clear favorite. It's really no surprise why – this calming and relaxing blend, featuring aromatic lavender, grounding clary sage, a touch of sunny citrus, and other botanical notes, is absolutely perfect at the end of a long day.
Unlike generic lavender, which is actually quite sweet on its own, this scent is perfectly balanced – it's not overtly floral, nor overtly herbal or citrusy. "No one note really jumps out," explains Chris Lutz, Manager of Marketing & Brand Development at SunLeaf. "It takes on a different expression in each product, which is a phenomenon unique to plant-based product formulas." 
Even if you're not a fan of lavender, you very well may be surprised to find that you enjoy this aroma – we hear it all the time. If you find yourself reaching for something to help wind down at the end of a long day, give ClarySage Lavender some consideration. Here's how:
Get Your Relaxation On...
Try adding a few pumps of our PlantScent® Soothing Body Oil in Clarysage, Lavender & Chamomile to a warm bath, then follow by applying the oil all over body, as you would any lotion or moisturizer
Experience grounding aroma bliss 24/7 with one of our Pure Essential Oil Reed Diffusers in ClarySage Lavender – just insert the reeds, flip when you want to intensify the aroma, and enjoy!
Shine bright with our Filled Candle in Glass in ClarySage Lavender – light, breathe deep, and let the stress of the day melt away
Shop This Story