PlantScent® Green Bar Shave & Face Soap
PlantScent® Green Bar Shave & Face Soap
For the smoothest shave, even on sensitive skin, there's nothing better than GreenBar™
Formulated to be gentle on faces and sensitive skin, GreenBar™ is made with only pure plant ingredients and scented with 100% pure essential oils. Infused with green clay (illite) to naturally draw out impurities, this bar leaves skin feeling fresh, clean and silky smooth.
Essential oil aroma features peppermint, sweet orange, lavender, and patchouli.
How to Use
Purify pores and achieve a smoother shave with natural green clay.
Rub the bar under warm water to activate a copious lather, then apply all over face, taking care to avoid eyes. Shave, if desired, or simply massage into skin and rinse off. For a more precise application, use with a shaving brush.
Store your soap high-and-dry when not in use with our Cedar Soap Raft to prolong its life.
Ingredients
INGREDIENTS: Olea Europaea (Olive) Oil, Cocos Nucifera (Coconut) Oil,* Cannabis Sativa (Hemp) Seed Oil,* Ricinus Communis (Castor) Seed Oil, Theobroma Cacao (Cocoa) Seed Butter,* Green Clay (Illite), Sodium Hydroxide, Aroma**.
*Certified Organic  |  **100% essential oil
Note: Sodium hydroxide is used to turn whole plant oils into soap. No sodium hydroxide remains in the final product.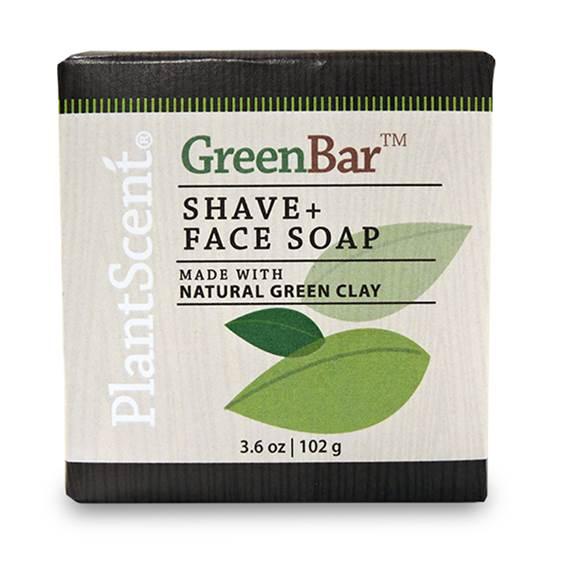 What's In
Whole plant ingredients, cruelty-free honey and beeswax, and 100% pure essential oil aroma.
What's Out
Petrochemicals, paraffin, phthalates, synthetic fragrances, colors, or preservatives.
Reviews